Blog
Everything interesting about Pega's AI-powered workflows for customer service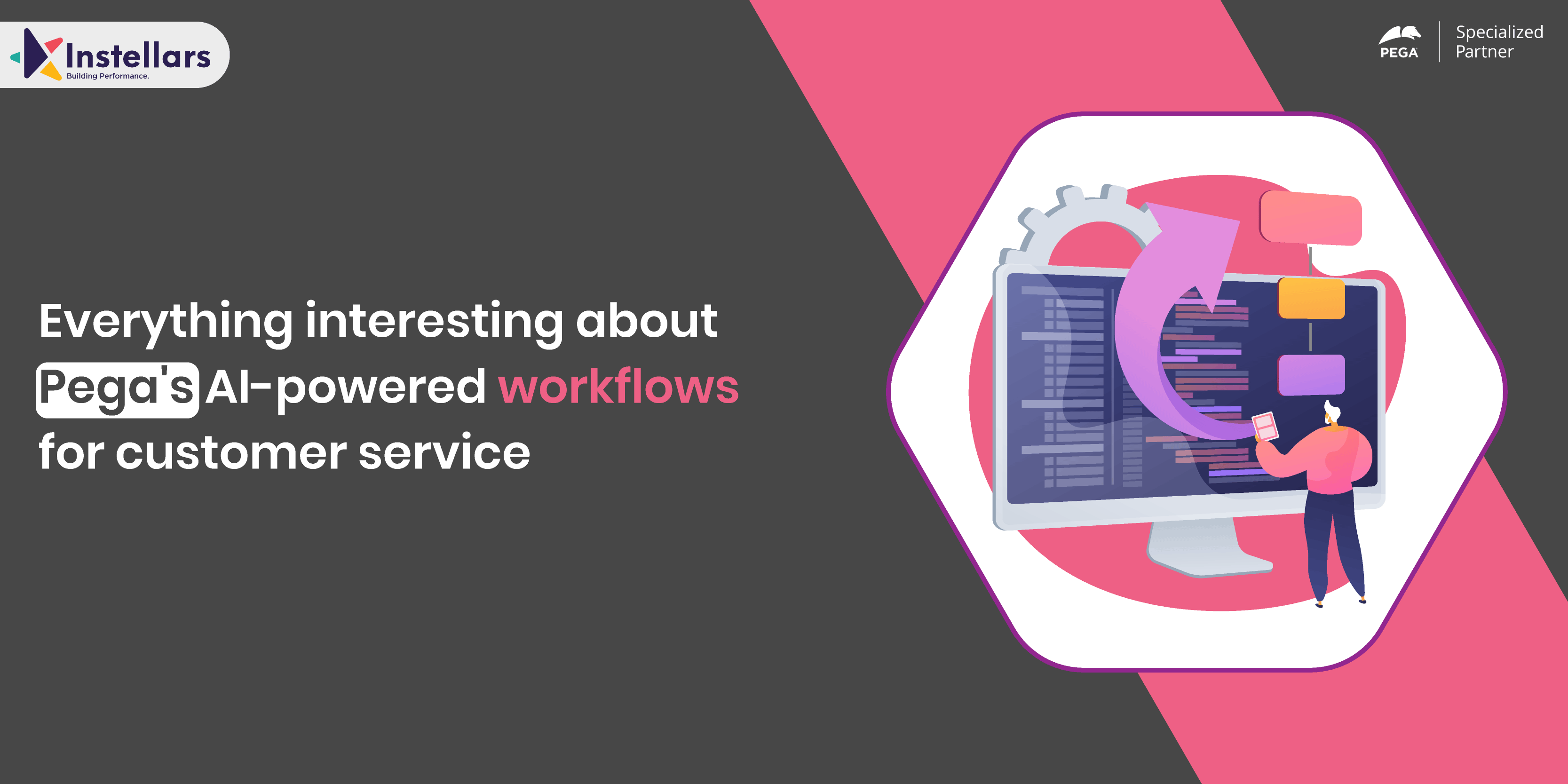 Businesses nowadays are concentrating on delivering outstanding customer service. As customers' demands are multiplying, organizations must use advanced technology to satisfy them. Pega, a leader in automation software, is providing AI-driven customer service solutions to tackle this challenge. This blog will explain how Pega's AI-Powered Customer Service is transforming the way organizations converse with their customers.
Pega Customer Service

Pega Customer Service simplifies the navigation between departments by offering automated processes tailored to each customer. Natural Language Processing (NLP), knowledge management, and intelligent chatbots are used to create an effortless experience that considers the customer's past interactions and case data. Agents are guided through their tasks, enabling them to be more productive and make meaningful contributions. Industry editions of this service are available for Healthcare, Financial Services, Insurance, and Communications.
Key Features
Explore the key features that make Pega the best choice for AI-powered customer service:
Workflow automation

Utilize Pega's AI-driven case management to quickly respond to customer inquiries. Pre-constructed micro journeys based on industry standards provide a starting point. Effective service delivery for every interaction helps to reduce the cost.
Conversational AI workflows
Through conversational AI, customers can naturally interact with the chatbot or agent, and the AI can comprehend, answer, and remember conversations. Voice and Messaging AI can also be used to assist agents, allowing them to focus on the customer's needs instead of the procedure.
Next Best Action Advisor
Next Best Action Advisor bridges the gap between agents and customers by using AI and behavioural algorithms to provide real-time decisions from Pega Customer Decision Hub. It offers agents high-value offers and retention suggestions which are ranked based on the likelihood of success.
Decisioning
AI technology makes it possible for companies to address customer needs in real-time, regardless of the channel. As businesses move towards a more autonomous model, using AI to power customer service can have many benefits: increased sales and customer loyalty, lower operational costs, improved agent productivity, and improved customer experiences.
Digital Self-Service
Pega's self-service capabilities, powered by Natural Language Processing (NLP), knowledge management, and conversational chatbots, create a smooth user experience tailored to a customer's history and case details.

Chat & Messaging
Provide hassle-free experiences on all the most popular digital outlets that customers use, like chat, Facebook, Twitter, Apple Messages for Business, WhatsApp, and SMS.
Email Automation
Customers want fast responses to their emails, and Pega's AI-powered Email Bot can help. It can quickly evaluate, deal with, and answer emails, creating actual customer results while lessening the amount of manual effort.
Pega Robotic Process Automation
Don't let your employees get stuck in a loop of continually switching windows. Pega Attended RPA allows them to give customers their desired results more quickly and precisely.
Knowledge management
Pega Knowledge facilitates quick, efficient, and user-friendly access to data. Traditional methods of searching for information were inefficient and unsuccessful. Pega Knowledge, on the other hand, enables users to gather, integrate, and organize information from several sources, while maintaining a unified and effortless way to access it.
Seamless Omnichannel Experience
Customers today expect a seamless experience across multiple channels, including phone, email, chat, and social media. Pega AI-Powered Customer Service enables organizations to deliver a consistent and personalized omnichannel experience.
Conclusion

Pega's AI-powered customer service is revolutionizing how companies interact with their customers. This technology utilizes AI and machine learning to provide organizations with the capacity to provide amazing customer experiences, optimize productivity, and strengthen customer loyalty. As customer needs keep changing, Pega's AI-enabled solutions provide an optimistic path to delivering personal, efficient customer service.
Stay Agile
The transformation that matters