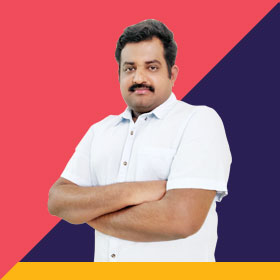 Prabhakaran
Centre of Excellence Head
Having over a decade of experience in BPM & Pega, Prabhakaran comes with a unique intermingling of knowledge, vision, and leadership. Being a Patron of Pega, he has co-developed Customer Relationship solutions for clients across verticals like Banking, Insurance, Automotive, and Healthcare.
Before joining Instellars, he had served as Technical Lead for development teams in Bank of America and Synechron Technologies. Through his mentoring and leadership skills, he helped to build strong and self-managed technical teams in these organizations.
He has been with Instellars since its inception in 2017 as a Pega start-up. Until 2019, he was entwined as Technical Lead and Account Manager for building Pega Solutions at Daimler/Mercedes-Benz Financial Services and abetted in implementing Customer Relationship solutions across eight countries.
In his current role, he is intricately involved as CoE Lead - creating robust, technology focused teams within the organization and on building innovative customer solutions.
VIEW NEXT PROFILE
Stay Agile
The transformation that matters