Blog
Artificial Intelligence: The Future of Business Service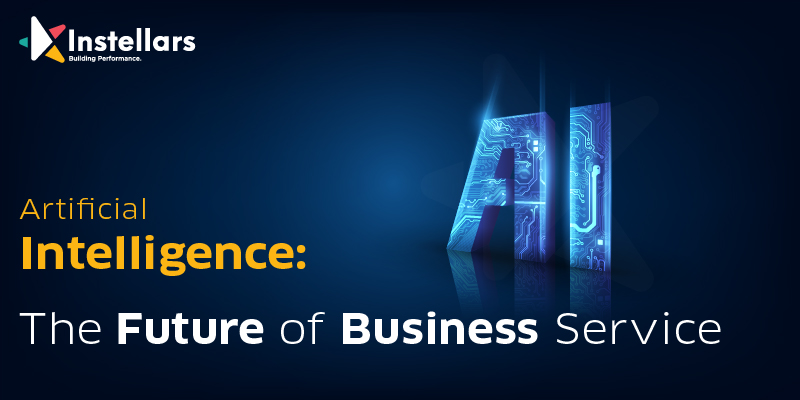 Artificial Intelligence (AI) is the use of technology to simulate and produce human-like decision-making strategies. In simple terms, artificial intelligence is mimicking human actions by training tools and machines to perform actions. A few examples of artificial intelligence are machine learning, problem-solving, speech recognition and planning. The modern world is an era of disruption. Businesses are being digitally transformed. Even the small and newly established firms are giving a tough run to the big players, and are slowly snatching away their market and revenue shares. The regime of monopoly is slowly fading away as any company with the right business strategy and products can disrupt the market. The term artificial intelligence is broad and somewhat unclear in the industry and yet important for the businesses. Machine learning and artificial intelligence are reliant predominantly on the amount of data available with the organisation.
Significance of Artificial Intelligence
Businesses that make use of artificial intelligence and machine learning tools are expanding their presence into multiple fields. This is because their operations are being powered by their capability to make use of the available data and analyse the same for various functions and customer retention and acquisition through effective relationship management. This is helping businesses gain an edge over others. Artificial technology is useful in establishing solutions to deal with complex problems in a much human-like manner. This includes adopting features that are very similar to human intelligence and applying the same through well-defined algorithms in a manner that is readable by a computing software. Artificial intelligence and machine learning technologies are being adopted on intuitive applications including smart cars, robots, electronics and so on. Several complex processes are automated, resulting in more work hours being saved and human workforce being used for more creative works for the business such as innovation, research and brainstorming. There are several applications that run on artificial intelligence, conversational bots being the most popular ones. These applications help organisations in reinforcing their business workflow by letting business leaders with more time to spare on brainstorming for the company's expansion and growth.
Streamlining Sales
Gone are the days when sales meant making cold calls and sending emails to a long list of leads. In today's world, customers are acquired through various channels. In particular, social media marketing is on the rise. TV ads and traditional marketing strategies still continue to drive sales, but artificial intelligence can make the whole process better. AI-driven customer relationship management (CRM) can play a significant role in driving a business. A sales pitch can be drafted targeting the right customer base by integrating CRM with AI. It can multitask and manage all the business verticals ably. This helps the sales teams to develop a customised sales pitch as per the customer's profile.
Role of Artificial Intelligence in Providing Customer and Market Insights
Artificial intelligence is playing a significant role in analysing markets and consumer behaviour for business development. Predictive analysis is applied to the data gathered through web and system matrices and social media handles to design a more enhanced set of products for consumers. Analysing customer insights is key in improving the customer experience. In particular, artificial intelligence is playing a significant role in the development of startups. The newly-established organisations are exploring opportunities to work on various taught processes and come up with innovative solutions for their expansion. Predictive analysis helps in cost optimization on maintenance as it provides a periodic scheduled quality test.
Automating Business Processes
Automation is slowly gripping the businesses. Several tools are being designed which helps in innovation and development. This facilitates businesses in becoming agile. The initial tools that resulted in automation are home appliances. Later, industrial bots were designed, which reduced the human workload by a significant extent. In today's world, industrial bots and humans work together. Artificial intelligence is now rising rapidly. It is swiftly automating processes that are considered cognitive. Smart algorithms are helping businesses in the hospitality, retail and financial sectors. These tools are not only automatic and efficient, they are also capable of doing the work round the clock.
Virtual Assistance Powered by Artificial Intelligence
A lot of companies are relying on artificial intelligence for providing virtual assistance. Organisations are using chatbots for several uses. The most significant wing is customer support/service. For instance, in a travel-oriented organisation, a chatbot can be utilised to answer simple customer queries such as the status of a bus, refund status, upcoming departure and arrival schedules.
Customised Consumer Experience
Artificial intelligence is letting the businesses to offer a customised experience to their consumers. It analyses a large database much more effectively. Artificial intelligence swiftly finds out trends in the data being fed. Thousands of transactions can be scrutinised on a daily basis to offer more customised services to every customer. Artificial intelligence can support businesses to find out the individuals that are more likely to become leads and customers when targeted with the right sales and marketing strategies.
Conclusion
The advent of technology and artificial intelligence have made even small companies compete against the well-established ones. In particular, artificial intelligence has allowed startups to adopt tried and tested processes to accomplish their end goals. With the use of machine learning and artificial intelligence, startups and new-established companies stand a chance to compete against the major players and snatch away their market share.

Stay Agile
The transformation that matters