Blog
All You Need to Know About Digital Transformation | Use of PEGA Technology in Digital Transformation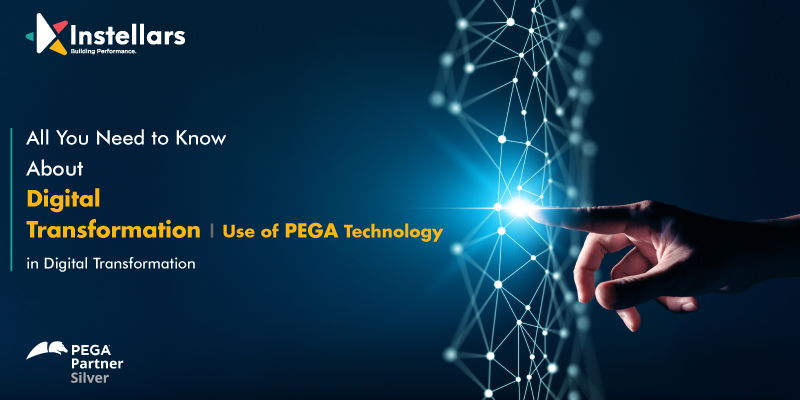 Digital transformation is the process of making use of the latest technology to transform business activities by replacing the traditional way of doing work with digital processes or automation. In short, digital transformation is the process of simplifying business activities and reducing human interference.
It involves integrating digital technology with all business wings, and fundamentally changes how an organisation operates and delivers services to its customers. It can also bring about a cultural change and may require an organisation to persist with the modifications and failures that may accompany the initial stages of digital transformation.
Some companies easily sail through the duration of the digital transformation while others go through a difficult time. It entirely depends on how the management drives the changes and the way the employees and customers receive it. Therefore, we cannot define a timeframe over which all companies can ring in digital transformation in their business.
Remember, digital transformation is always a work in progress as companies need to keep themselves updated with the latest technology. It requires continuous assessment and upgrading of the existing technology.
Why is Digital Transformation Needed?
Organisations are required to undergo a digital transformation for various reasons. However, the most significant need for digital transformation is for their survival. Notably, in the wake of the ongoing COVID-19 pandemic, most businesses had to relook at the way they went about their operations. The crisis called for employees to work from home and adapt to the latest technology to stay connected with their colleagues to ensure there are no disruptions in the completion of the assigned tasks and projects.
The COVID-19 pandemic had a major impact on the supply chain, it asked companies to time the markets and meet the new customer requirements. To survive the pandemic-affected market, the organisations across the world started seeking new ways to tackle the challenge and they essentially had to undergo a digital transformation (if they were not already digitally transformed).
In the wake of the ongoing pandemic, an organization's ability to adapt quickly to supply chain disruptions, timing the market, and meeting the rapidly changing customer expectations, has become critical. This made the companies optimise operational cost as they had to shell out a significant amount on equipping themselves with the latest technology. However, it is a one-time expense and will deliver great results in the days to come.
The Framework of Digital Transformation
Even though the framework of digital transformation varies across organisations depending on the challenges and requirements, some parameters are constant. The following are the most common digital transformation components:
● Workforce simplification and enablement
● Customer and user experience
● Operational agility
● Leadership and culture
● Integration of digital technology
In addition to these, the organisations may have their own requirements and parameters to be considered. The tech team of every organisation must step up and identify the needs and digitally transform their business to stay competitive in the market.
USE of Pega in Digital Transformation
Pega is a business process management (BPM) tool which is based on Java, and it is used to develop applications useful for enterprise management. Pega is one of the most popular BPM tools in the market. Pega's Better Business Software provides an end-to-end solution for all enterprises to transform digitally.
The following are some of the features of Pega's BPM software:
● Instinctive design tools to record business goals
● There is no need of coding as the system auto-generates application code
● Sector-specific solutions such as banking and insurance
How Does Pega Help in Digital Transformation?
From every commercial and retail bank to well-established investment firms, all financial institutions are seeking the best solution to disrupt the market. The challenges here are complex but Pega's innovative software solutions can help you. They have an excellent track record of efficiently managing these situations and will help you transform your business. They also improve the way you interact and provide services to your customers.
To stand out among your competitors in the market, you need to take proactive steps to improve customer engagement. With Pega's BPM tool, you can provide services on multiple channels and streamline your business operations at the same time. It helps you optimise acquisition, upsell and cross-sell while focusing on retention as well. This helps you in getting an edge when it comes to meeting the customer needs at key moments.
For instance, currently, insurance firms are facing several challenges due to the recent unprecedented developments. The ongoing pandemic has hampered growth and revenues of insurers. At the same time, customers are having high expectations from the insurers. Not to forget, the insurance sector is undergoing rapid development due to the advent of technology.
This has made it important for insurers to come up with innovative solutions to stay afloat in the market, which has made it essential to undergo a digital transformation.
Here, Pega helps to achieve their desired growth by providing software solutions which are expected to increase customer retention and acquisition. It also plays a critical role in enhancing sales and makes policy underwriting smooth by easing the risk assessment process.
Pega's BPM tool can provide sector-specific solutions. If you are someone looking to automate or digitally transform your business, then opting to integrate your enterprise with Pega's BPM tool is a good idea. Apart from Pega's BPM tool, you may also consider making use of Pega's customer relationship management (CRM). This tool includes applications useful for marketing, sales and customer service.
If you are not happy with your current ERP or looking to upgrade for a higher version, then you may consider opting for Pega's ERP. This uses its advanced BPM tool to create consolidated and global applications that simplify and streamline HR, IT, compliance, finance, legal and sales operations.
Conclusion
If your organisation is yet to undergo a digital transformation, then it is high time to do so. Pega is one of the best options available in the market today. They offer a wide range of services and tools that simplify your business operations to a greater extent. Pega offers sector-specific solutions, which is all the more reason to choose them.
Stay Agile
The transformation that matters