Blog
Here's how businesses are achieving their goals using Pega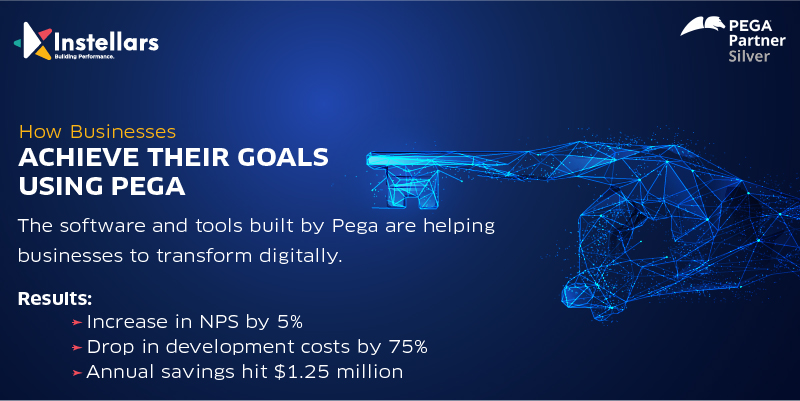 Pegasystems Inc. is a Massachusetts based software firm. It is known for its platforms built for digital process automation (DPA), customer relationship management (CRM) and business process management (BPM). The software and tools built by Pega are helping businesses to transform digitally, achieve their business goals and overcome challenges with no hassles.
Driving incremental revenue growth via one-to-one customer engagement
A UK based telecom operator and internet provider had the following business goals; maximising the revenue per sale through understanding customer behaviour, enhancing customer satisfaction and experience through the meaningful offering of services and optimising the operation cost by reducing feeble sales offers.
To achieve these goals, they decided to make use of Pega's marketing and customer decision hub solution. With Pega's software, they were able to make use of real-time customer circumstances along with analytics and big data to ascertain the optimal offer for every customer.
The recommendations made by Pega's software were accurate and ensured that agents were deployed to sell without requiring further process training. Pega's solutions also have the ability to effectively respond to posthaste in evolving and highly competitive markets.
This helped them get their new offers up and running within just two days, which earlier used to take at least a week. Pega solutions also helped them in providing support across all channels by serving as a centralised decision hub. It offers recommendations on a real-time basis, irrespective of the channel or the offer.
The results obtained by adopting Pega's software and tools yielded great results for the telecom operator. The organisation initially made use of this in its agent-assisted loyalty channels. However, after noticing a significant improvement, it later decided to implement this feature across all agent-assisted channels.
Furthermore, this helped them quadruple the number of accepted offers, which saw a revenue of an additional 4 pound per transaction. Among the sold offers, 90% of them are attributed to the top three recommendations made by Pega's tools. Their agents are now feeling more empowered to sell offers, which is having a positive impact on the KPIs.
At the same time, the implementation of Pega's software and tools has helped them to improve on their customer satisfaction as well. The net promoter score (NPS) rose by 5%. Agents are now engaging in constructive conversations with customers, previously it was restricted to only selling. The organisation is now more responsive to new market developments and needs.
Improving travel experience and optimising the costs in just four months
A transport management corporation had the following business goals for which they turned towards Pega:
1.) Minimising delays and offering timely and accurate travel information to the public
2.) Operating a more proactive system for incident management
3.) Enhancing citizen services and communication
4.) Implementing a system for a quicker response to device faults.
The corporation operates railways, ferry and bus operations spread across a road length of nearly 18,000 kilometres and 5,000 tunnels and bridges. They associated with Pega to come up with solutions to their business goals.
To make sure that travellers have a good travel experience, the corpou decided to build a fault management service (FMS) using Pega, a hassle-free and decision-based incident management solution. This system is now more effectively tracking, managing and responding to a large number of incidents. The agency could meet its goals in just four months due to the agile methodology and capabilities of Pega technology.
The fault management service has enabled them to route and address faults on a real- time basis from over 20,000 devices being operated remotely. The solution enables the transport management company to swiftly address incidents through Pega's business rules to automate escalation and prioritisation.
The corporation has managed to improve their services being offered for travellers by improving the accuracy in communications and travel experience for people. This has also brought down the operational costs and streamlined the processes. The organisation is now evaluating and responding to events at a much faster rate through better prioritisation and utilisation of remedial activities.
The improved services of the transport management corporation resulted in the agency being awarded as the 'Best Use of BPM Technology' at the yearly Gartner BPM Summit. Today, the company is having an agile incident and case management system that facilitate intelligent and sophisticated responses.
The company decided to associate with Pega as it offers support to current requirements and gives an agile foundation for changes needed inside the agency and other associated firms. In the coming days, the company anticipates to continually optimise time and further streamline the processes based on the available data. In particular, the travel management company is planning to adopt collaborative incident management, facilitating better association between operation and support personnel.
Offering a robust global service
A global credit card service provider, intended to achieve the following business goals;
1. To be the most respected service brand in the world
2. Provide seamless services across all channels

3. Creating a solitary worldwide portal for services,
4. Enhancing the business agility
5. Driving meaningful customer relationships and enhancing customer engagement.
To achieve these goals, the company developed and improved the future state experience for both employees and customers in sync with users of the solution. They went to an extent wherein it deployed customer care team members into the design and development teams.
The company managed to bring about a centre of expertise, through which tools and applications were designed and delivered for various business wings using Pega technology. This has helped them in delivering common components that could be used for various purposes in the enterprise. This resulted in the better collaboration of employees, governance and re-usability of resources across business wings.
Throughout the journey of the company in collaboration with Pega instilled a highly engaging developmental model which uses an agile scrum methodology coupled with the user-led association and open governance.
The platform developed by Pega has been made live in 12 countries and 6 languages. Over 200 million interactions are now being handled through the new Pega-developed application in over 150 processes. This roughly accounts to 90% of the work being handled by the customer care team members. Besides, the company realised that it was not developing a minimal viable product, but a minimal lovable product by deploying the actual users of the product into the design and development teams.
Apart from remaining at the top of the chart for credit card customer satisfaction, the company has also witnessed a significant improvement in the customer spending behaviour, customer attrition, average handling time and expense margins. The costs involved in the new development dropped by over 75% as new areas are reusing nearly 70% of the previously developed properties.
Apart from these, two of the major self-developed systems went inactive and auxiliary homegrown systems were avoided. This helped the company to save nearly $ 1.25 million annually. Any future changes needed in businesses and processes can be directly made by the procurement organisation, which ensures compliance with both local and global policies. The system makes use of business process flows and rules to automate coding. Many of the changes could now be made directly and quickly by the procurement professionals which alleviated the over-reliance on IT professionals.
Conclusion
Companies can transform digitally, automate their business process management and build powerful customer relationship management tools by integrating with Pega. With the use of Pega's software, organisations can achieve their business goals, overcome challenges, cut down on their cost of operation, and see great results in the long run.
Stay Agile
The transformation that matters