Blog
Here's How to Humanise Workflow With Agility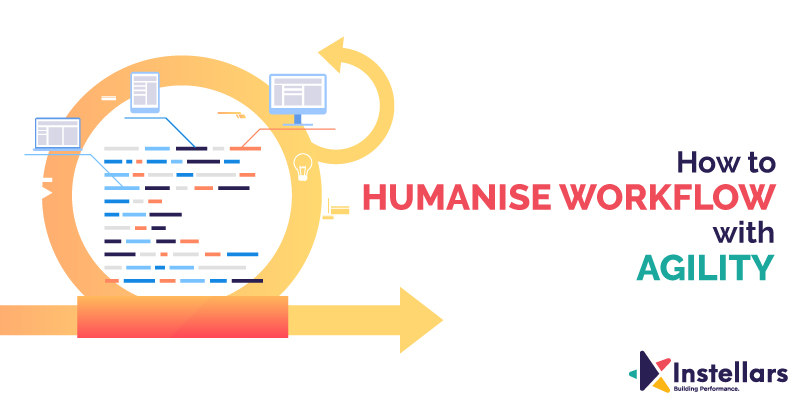 Digitalisation is bringing in numerous changes to the way businesses go about their workflow. The digital revolution has brought automation and helped companies to make the optimum use of their workforce and has also made the user and customer experience better. The new-age tools that make use of data analytics, robotics, IoT, machine learning, and artificial intelligence are powering the companies to go through digital transformation. Also, the onset of the COVID-19 pandemic has forced companies to adopt new and efficient technologies to stay competitive in the market.
Are companies losing their way in the digital revolution?
A lot of companies seem to have lost track in their journey towards being digitally transformed. One needs to understand that digital transformation is not going to offer companies an end-to-end business solution. Having the right workforce which bridges the gap between the digital and actual world is the key. Your company is going to fail in being digitally transformed even if you have the best of technologies but not the kind of workforce that could make use of them. It is critical to have able hands running your enterprise.
Humans and resources are not the same
Let's consider an example of a cricket team that looks formidable on the paper. The probability of a team that looks so strong does not guarantee them winning a particular game. It depends on how good the players perform on a given day and how well the captain can marshall the troop. A player might be a good option to play in a certain position. The onus is on the team management and captain to identify the strengths of the players and slot them in the game accordingly. If the team management fails to identify the players' strength, then the result may not be a favourable one.
Also, the players when they are given the roles they desire, if they don't perform, then they cannot be termed as 'workforce'. They are just resources. A resource may or may not be useful. Only useful resources form a company's workforce. Treating employees as just a resource instead of bringing a human touch to their skills and abilities is a major mistake that most companies are committing these days. Being resilient despite the challenging situations is the only way towards glory at times of companies undergoing a digital revolution. If you don't have a collaborative and engaging workforce, your ambition of digital evolution may not be realised.
Being agile may be a solution
Agility has become the need of the hour in companies that have undergone digital transformation. Some people consider being agile as a substitute for having a robust tech infrastructure and digital evolution. Nevertheless, it is more extensive than just that. It is a network that gives you the level of human trust, transparency and bonding. Providing personal level agility may result in organisational level agility with an able workforce and the ability to quickly make decisions. It is critical to find solutions to the following question to achieve agility on both personal and organisation level agility:
1) Is the company's workforce understanding and learning to be agile?
Organisations that have succeeded are known to have promoted the progress of the learning curve. This involves bringing transparency, learning new skills, making new associations and looking at objects from various perspectives that are beyond the scope of the current set of framework and workflows. Today's work environment needs individuals to scale up their skills and practice self-improvement to stay competitive.
2) Is the organisation seeking emotional agile?
More frequently, emotions play a big part in today's organisations. A negative approach, being doubtful, adopting a sceptical way of thinking and undesired restructuring and reorganisation can result in emotional discord within the company. During these times, adopting a human-like approach will help in building a conflict management team. This team will possess the ability to negotiate and control emotions.
3) Is your agility evolving?
In today's world, there isn't anything permanent. You have to accept the fact that change is the only constant. In ever-evolving business ecosystems, employees are expected to quickly get used to the changes in the work environment. This orientation towards being adaptable to changes will result in sustainable resilience, which should be backed conducive work environment for better performance and growth. To make change management agile, companies are required to ensure that there is a smooth transition in the ability of their workforce to accept changes and explore their benefits.
4) Is empowerment agility being facilitated?
A company is said to be agile only if it facilitates its workforce to quickly make decisions and take actions. This becomes extremely critical at times of unprecedented development, such as the COVID-19-induced crisis, during which companies have to adapt to the changing business needs. In the modern world, the workforce of a company is required to be innovative, creative, independent and have the liberty to make quick decisions. Meanwhile, the management and workforce are required to create an environment that helps employees in building confidence, feel secure and motivated to work. This would help the company to increase its output, see better collaboration between the teams, and thereby see the desired results.
Conclusion
Humanising the workplace is the key to success in this ever-evolving era of doing business. Being agile is essential and companies must be ready to accommodate changes in their workflow if they are to survive and stay competitive.
Stay Agile
The transformation that matters